Schurz High School
Class Of 1963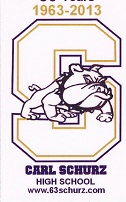 This website will remain active until at least 2029.
This website was created for our classmates use.
Lauren Bartoshuk (January) and Angela Roper (June)
are the administrators of this site.
The Reunion is over, but this site will continue to
Improve and offer more memories, photos, videos
and the ability to reconnect with old friends.
The passage of time changes so much in our lives, visit
and use this site often to stay connected.
This site is PRIVATE for OUR Classmates use only.
No information is or will be given out to anyone.
Emails can be sent through this site to avoid someone
getting your direct email address.
Suggestions are always welcome.
ANNOUNCEMENTS
•

Two of our classmates are facing some major medical issues and I'm sure those of you who know them would like to keep them in your thoughts and prayers.

Peter Cangelosi

Here is all the latest I have on Peter's rehab and conditions. He was transferred to:

Transitional Care

1200 N. Arlington Heights Rd.

Arlington Heights, IL 60004

Room No. is 203 Direct Line is (224) 248-9215 Ext. 2031

His tentative release date is 2/25, depending on how he is doing at that time.

Peter has a compression fracture to L1 vertebrae, has a back brace and is using a walker. He is receiving occupational and physical therapy.

His stress test showed two heart valves not functioning properly and gastro test determined he has cirrhosis of the liver.

Bob White

from his wife Jean

My husband, Bob White is back in the hospital! This time it looks like he has internal bleeding, possibly a bleeding ulcer! Already got 1 unit of blood! He's being put in ICU at Elmhurst Hospital! Please pray for him!

•

John Hill

After waiting for many years John is finally getting the kidney he has been waiting for.

From his FB post:

PRAISE THE LORD!
I got a call a couple of hours ago from Tampa General Hospital telling me they have a kidney for me!!
We are so excited! Flying down there at 1605 today with surgery planned for tomorrow a.m.
Thanks for your collective prayers and may I ask for continued prayers in this latest adventure and miracle we are experiencing.
God Bless all of you

****************************************************************************************************************

Sadly to say, John passed away yesterday. After waiting for so long, having a successful surgery and looking so well for the past week and being so encouraged, his body just couldn't handle it. He will be missed by many.

•